Road trip adventures: Birds of the Olympic Peninsula
Listen for loons! You will know if common loons, like these two, are nearby by their eerie call.
Winter is wonderful birdwatching weather!
Winter is a spectacular time to break out the binoculars and check out the bird action at state parks in Puget Sound and the Strait of Juan de Fuca. Many of your state parks serve as a regular haven for migratory and year-round bird populations. Cold, clear days on the Olympic Peninsula draw all manner of fowl who fish, float and flit by the water.
The dramatic dichotomy of forests butting against rocky shores creates a unique sanctuary for shorebirds and tree dwellers alike. So, gather your camera, coat and hat, round up those binoculars and let's shake a tail feather!

The total mileage of this journey is just shy of 150 miles and about a 3.5-hour drive time. Get an early start, and hit some or all of the stops in just one day, or make a weekend of it! Either way, a road trip is a relaxing way to recreate. Take your camera along, too!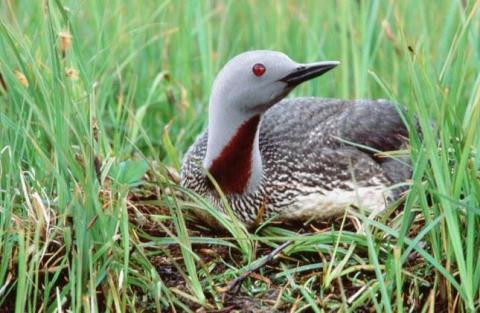 🦆 Stop seven: Jarrell Cove State Park
End your day the island way! Surf scoters frequent Jarrell Cove and are a pleasure to watch dive in the shallows. If you're lucky, you might spot the occasional red-throated loon during high tide.
At low tide, you're sure to spot Bonaparte's full and other gull types lounging on the mudflats before retiring to nest in the trees. You can also access the park from the water! Jarrell Cove is on the Cascadia Marine Trail.
Originally published February 26, 2020
See blogs also related to...