Lifetime Disabled Veteran Pass
Offered to veterans who are Washington state residents with a 30% or more service-connected disability.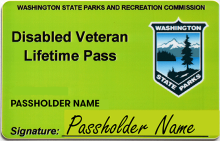 Pass benefits
Free day-use parking, boat launch and trailer dump in all state parks.  Free nightly camping or moorage. No reservation fees.
This pass does not take the place of a Discover Pass when visiting lands managed by Washington state Department of Fish and Wildlife or Department of Natural Resources.
How to apply
Download the Disabled Veteran pass application (PDF).
Get an application at many state parks.
Have an application emailed or mailed to you by calling (360) 902-8844, or the Washington Telecommunication Relay Service at (800) 833-6388.
Submit proof of Washington state residency
Must be a current Washington state resident for at least 3 consecutive months. Submit 1 of the following:
Valid Washington state driver license or ID card.
Valid Washington state voter registration card.
Washington state senior citizen property tax exemption.
Other proofs of residency may be accepted.
Note: We cannot accept a Washington state driver license with a "military" expiration, if it has been more than 90-days since you separated from active duty. That driver license is no longer valid. Please contact Department of Licensing to renew your license before applying for this pass.
Submit proof of disability
Submit a VA award letter on official letterhead dated from the last 2 years. Must show your combined service-connected disability rating of 30% or greater.
We will not accept your DD-214, the identification card issued by the VA Health Care system or a Retired Military identification card.
Do not submit original documents.
Submit your application
Mail
Washington State Parks and Recreation Commission
P.O. Box 42650
Olympia, WA 98504
Fax
(360) 586-6640
Email
General discount pass rules and expectations
If you are using a discount pass there are some basic rules you'll need to follow. 
Pass holder expectations
Do not alter or make copies of your pass. Never share your pass or pass number with others. Pass holders will be charged $15 for replacements.
The pass holder must cancel reservations if unable to use them.
Camping rules
The pass holder must be camping and present at the site to receive a discount. The pass is only valid for the person it is issued to. The pass must be valid and physically with you during your visit. Be prepared to provide photo ID.
All camping discounts and associated benefits are limited to the site the pass holder is camping in. Discounts and fee reductions are limited to 1 campsite or moorage site per night.
Do not make duplicate or multiple reservations for the same night. Including double sites.
Park rules
While it is important that you follow all park rules, these rules are most important for pass holders:
Camping is limited to 10 consecutive nights at any single park from April 1 through Sept. 30, and 20 consecutive nights the rest of the year.
Moorage is limited to three consecutive nights at any single park.
Pass holders are expected to treat park staff with respect, always follow park rules and staff guidance.
Violations of these rules, or any other park rules, may result in pass benefit suspension or revocation. Must surrender pass upon request.
Off