Park proposals and marriages
"Let's get married at my workplace!"
We reached out to Parks colleagues across the state, asking for stories and photos of Washington state parks weddings.
To be honest, we weren't sure what to expect. After all, not many people choose to get married at work. But our teammates and workplaces are incredible, so we shouldn't have been surprised when our inbox lit up with heartfelt engagement and wedding tales.
We heard from newlyweds, long-married couples and many in between. Several rangers and park aides had married in "their" park. Two rangers from neighboring areas married each other. Others went to work in the park where they'd married.
We hope you feel the love (and maybe a little wedding inspiration) from their stories below: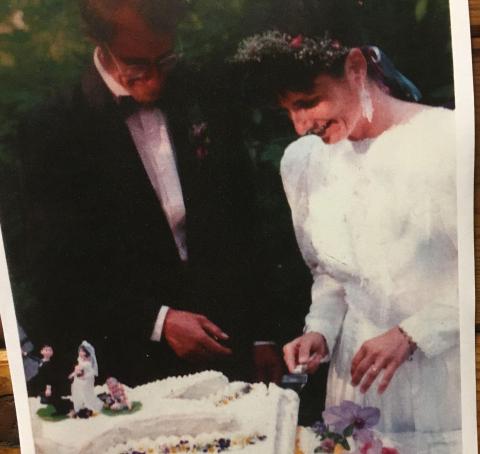 Sweat equity = big payoff
My wife Cherie and I were married at Rockport State Park in 1989. We'd lived in nearby Concrete, and I'd previously worked at Rockport .
Several dear friends had married here too, including two who were given permission by the ranger to clear overgrown brush from what was originally the group camp and overflow sites. They opened it up and mowed it to become a large picnic area. That's where they married and celebrated their 10th and 20th anniversaries. They're coming up on their 50th soon!
As for our wedding, I spent $400 for some beautiful salmon off the boat in Anacortes, drinks and my sport coat and bow tie. Everything else was gifted to us: the flower arrangements; the cake, decorated with edible flowers; the reception with live music; and a fantastic potluck feast that everyone said was the best potluck ever in the upper Skagit Valley. 
Don Smith, Senior Park Aide, Rockport State Park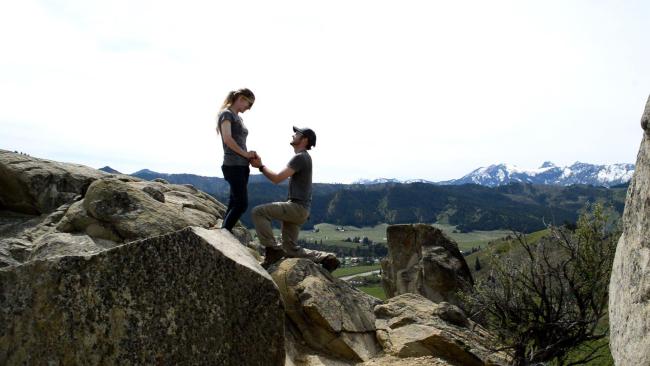 The pinnacle of ruses
I proposed to my now wife Alexandra at Peshastin Pinnacles State Park! We're both rangers – I'm Wenatchee Valley Area; she's Central Cascades. We got married at a former state park, Ohme Gardens, which is now a county park.
I wanted to surprise her with the proposal. We had talked about it, so I knew my work was cut out for me. We'd been wanting to hike neighboring Peshastin Pinnacles, and I ventured that we had a free morning, so why not check it off the list?!
As a further smokescreen, we were having friends over that day for a football party, so she didn't suspect a thing! I told her I'd recently found my camera's tripod, which had gone missing, and was going to mess around with it and take pictures at the top. When we got up the Pinnacles, we took a picture using the countdown function. I suggested we do one more. But this time I started a video, ran back and pretended to pose like I was waiting for the self-timer. When she realized the light wasn't blinking, she asked if I'd pressed the button. That's when I took out the ring and asked her to marry me.
Later, she told me if I hadn't proposed to her, she was going to propose to me!
Andy Branscum, Ranger 1, Daroga State Park
Tying the perfect knot, at a scout camp
My wife Jesi and I got married in June of 2017 at the Millersylvania Retreat Center. We rented the facility Friday through Sunday. It was set up like a "scout camp" with a central lodge, counselor cabins and scout cabins throughout the surrounding forest and meadows. There was a barn and private swim area. Our guests stayed in their pick of cabins. We held the ceremony in the barn and the reception at the lodge. Both were perfect and embodied the feelings we wanted to be central to our special day: family, comfort and love.
When planning the wedding, we looked into several venues. Our criteria: a space that could accommodate up to 150 people, host an outdoor ceremony, an indoor reception and family-style games and dancing. Most places were outside our budget, until a family member suggested Millersylvania. We both grew up in the Olympia Area, and Millersylvania was close to our hearts. Once we learned about the Retreat Center it was a no-brainer.
We hadn't anticipated being able to host our guests overnight. Having overnight accommodations for all our guests – and within our budget – was great!
Now that I'm a state park ranger, it's fun to share that I was married in a state park.
Alicia Feist, Ranger 3, Millersylvania Area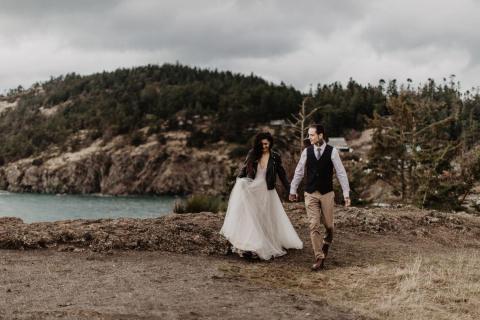 Deception Pass proposal and photos – with a little deception in between
Beau proposed to me at Deception Pass State Park on Rosario, my favorite place in the world.
We married on San Juan Island, where I surprised my mom on our wedding day. Beau's parents were in on it. When they arrived on the ferry, I took my mom to the local farmer's market and asked her to help me pick out a bouquet. She asked me what for, and when I told her it was for a wedding, she knew exactly where I was going with it. I think she was more excited than I was! We did not have formal portraits at our ceremony because we wanted to experience everything in the moment.
Fast forward five years: an opportunity came up to have bridal portraits taken, and I wanted to capture them at Deception Pass. Our photographer, Ariel, a friend I had met through the Kitsap climbing community, asked if Beau and I would be interested in modeling to help build her portfolio. I told her we hadn't had wedding photos taken, and the deal was sealed! I borrowed a dress from my coworker's wife, and we returned to Deception Pass.
So now, almost seven years later, we have portraits to share with family and friends. It's been a long time coming and worth the wait.
Alicia Burki, Maintenance Mechanic 1, Illahee State Park
Originally published May 08, 2023
See blogs also related to...