Try backpacking at a state park
Is backpacking on your life list?
Many car campers get justifiably nervous when they think about straying too far from their favorite campground. You may have toyed with the idea of backpacking, but wondered how to do it with kiddos, or without the big grill, cooler and six-person/two-dog tent!
Fear not! We're here to help. Several Washington state parks have primitive sites for folks arriving by foot or by bike. In most cases, these sites are ¼ to ½ mile from the parking lot but have more privacy and a "wilderness" feel. In other words, they provide a gentle introduction to backpacking before you shoulder a 40lb pack and walk into the wild.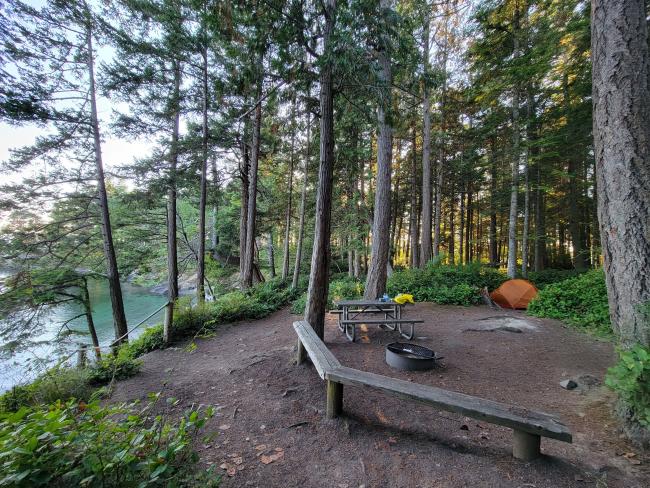 Adopt a minimalist philosophy
If you have ever downsized a house or apartment — you've got this! 
Of course, you could spend hours making multiple hikes to the car, but where's the fun in that? Paring down gear is part of the adventure, and our primitive sites will help ease you in.
You'll need the 10 essentials, plus camping gear. If you're hiking with kids, pack the 11th essential – wipes, for everything from faces full of food to dirty hands to bathroom accidents, since you'll be a ways from running water and toilets. Just, please pack them out!
A big, multi-person tent will be your heaviest item, but you may be able to split the parts between friends and family members. Otherwise, consider renting lighter tents from an outdoor store or gear rental service.
You can pick up an affordable lightweight backpacking stove and canister fuel at most outdoor or big box stores; just try lighting it in town (outside) before relying on it during a campout.
Finally, this is your moment to tuck into a freeze-dried meal. Before that idea makes you sad, we should say a variety of backpacker meals have popped up in the last few years. Several brands cater to special diets, and some are downright yummy.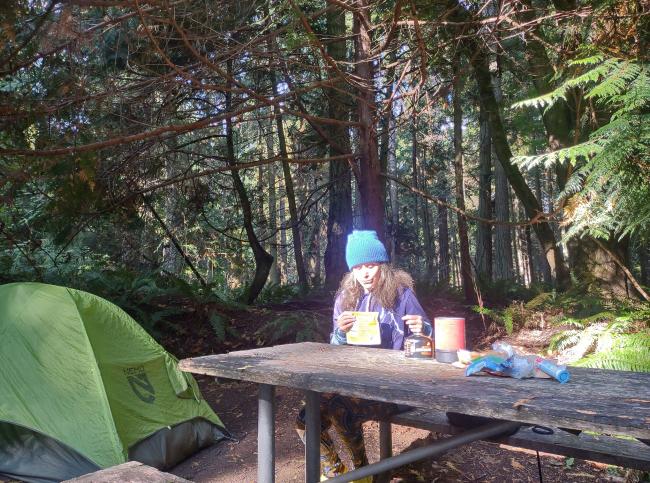 Find the sweet spot between comfort and pack weight
Your first few trips don't have to be spartan. Luxury backpacking items include: camping pillows (usually inflatable), down booties, camp shoes, lightweight camp chairs, desserts, playing cards, rain tarps and portable chargers for downloaded entertainment.
Just remember: the cushier your camp, the heavier your haul!
Keep it clean and wildlife-friendly
Backpacking differs from car camping in that everything must be packed out to the trash cans and dumpsters in the parking lot or day-use area. That means carrying a dedicated trash bag – and maybe a rodent-safe container for food, scented items and trash. 
Your food storage system could be as simple as a stuff-sack, hung on a tree, or a bucket with a food-safe lid. Several outdoor stores rent bear cans, which double as sit-stools, but they can be tough to carry.
We don't recommend sleeping with your food, unless you're OK finding a hole in your tent and a mouse inside, snarfing your snacks! But seriously, please don't feed wildlife or let them get into your stuff if you can help it!
A few primitive walk-in sites to get you started:
Some sites are reservable, while others are first come, first served. Please check with the park for more details!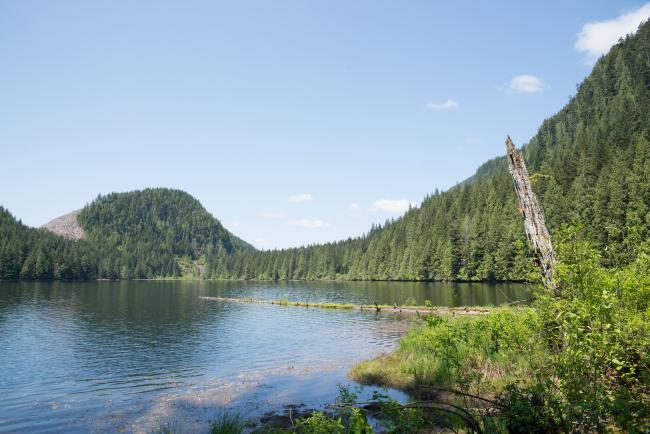 Set a bigger goal (maybe)
Once you've hit your stride with our primitive sites, you may crave a longer backpack - or not. Many wilderness areas and national parks have backpacking sites one to three miles from a trailhead, but we're partial to our parks, so…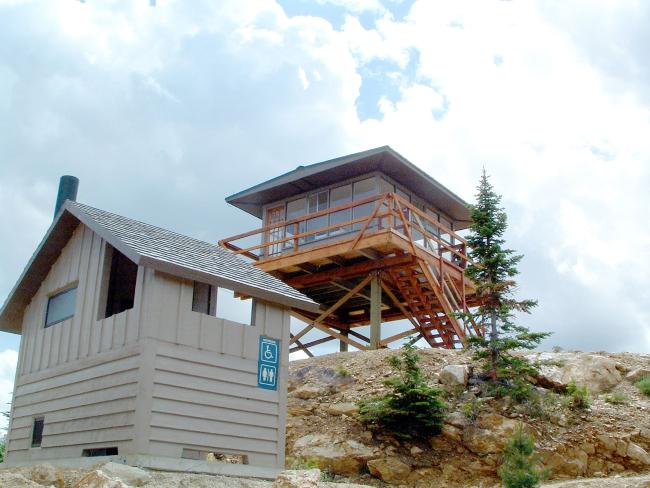 Taking it up a notch
By then, you'll have added a GPS app to your phone – though we also recommend paper map, compass and knowledge of their use, and a water filtration or purification system to your overnight kit.
At that point, you may forego luxury items and stock up on campfire stories and lightweight entertainment. Most backpackers swear their packs get heavier with each mile they walk!
Finally, once you get into the backcountry, Leave No Trace principles become even more critical, as trash impacts wildlife and fragile environments.
Whether you end up falling in love with our walk-in sites or you plan a long thru-hike next year, we invite you to enjoy some next-level wildness in these great outdoors!
Originally published October 04, 2023
See blogs also related to...