People of the Parks: Artist in Residence Nina Vichayapai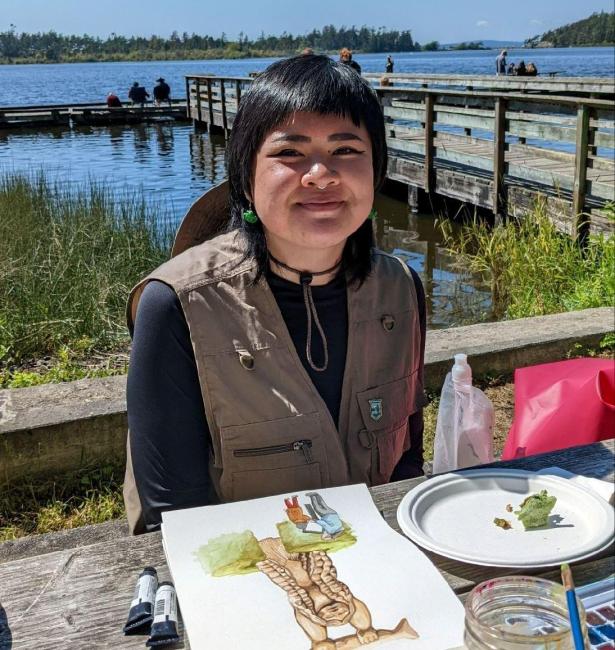 Photo caption: Artist Nina Vichayapai's watercolor paintings created during her residency at Deception Pass State Park. She will be using these painting to create a final piece that will be put on display in the park when it is complete.
Deception Pass' first artist in residence
Portland-based artist Nina Vichayapai spent five weeks pulling inspiration from the sites, sounds and people of Deception Pass as State Parks' first-ever artist in residence.
Nina graduated from California College of the Arts in San Francisco in 2017 and now works as a full-time artist. Her work is a combination of watercolors and hand sewn materials that articulates the beautiful, and sometimes complicated, relationships between people and the world around them.
Learn more about Nina's experience in her reflection below.
Before arriving at Deception Pass, I was unaware of its status as Washington's most-visited state park. Childhood memories of exploring the area with my family and briefings from park staff on my would-be accommodations on Ben Ure Island, inhabited only by two other full-time residents, led me to imagine a month filled with quiet solitude.
Yet upon arriving to settle into the cozy island cabin I would call home for a month, I immediately noticed commotion. A persistent stream of boats hurried past every side of the small island. Chatter could be heard through the trees. I took a few steps from the cabin to find the island's shore and realized the voices were coming from the Cornet Bay docks just a stone's throw away. A group of paddle boarders passing by greeted me cheerily. Quickly, I realized that the isolated island experience I had been picturing was far from reality.
At the core of my art, I am deeply interested in how people connect to a place. Yet, sharing nature with a crowd did not initially strike me as an optimal way to explore this subject.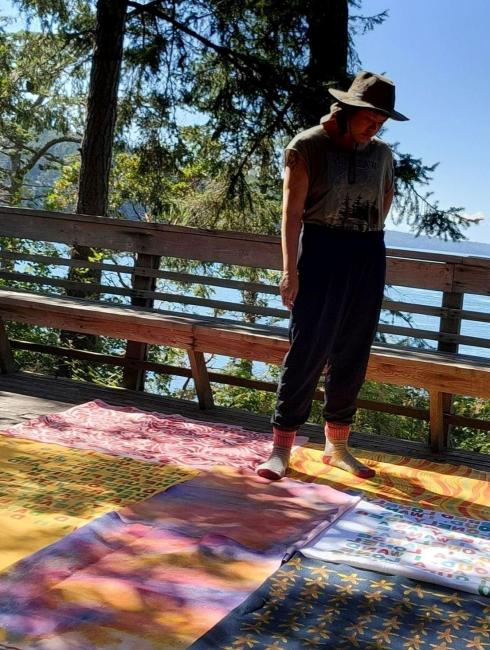 Regardless, I was thrilled with the opportunity to make art at Deception Pass. With its many beaches, lush forests, and grand mountain views, there was no shortage of spectacular places to call my studio for the day. The plentiful eagles, seals, and deer I saw daily did not seem phased by the hustle and bustle of people. And so, I too learned to embrace rhythm and life in the park from the tides, wildlife, and flow of visitors.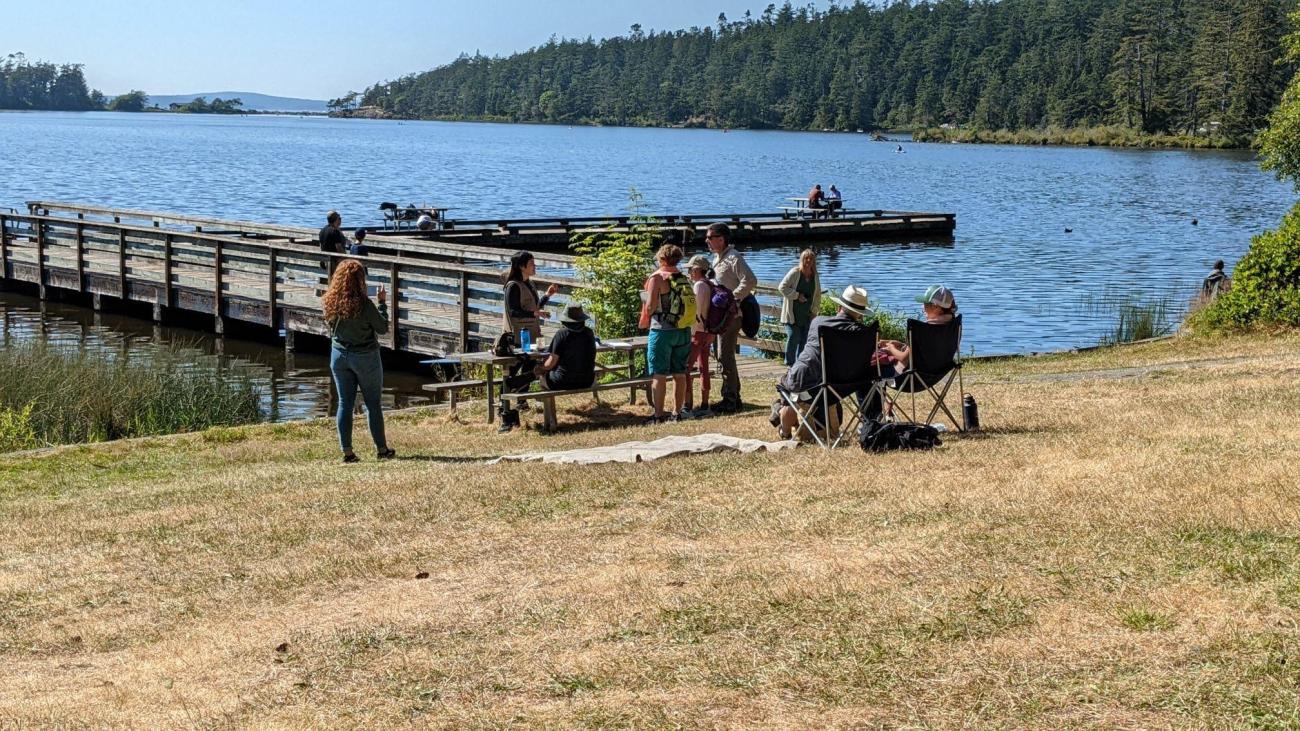 Through painting, I explored these observations. Plants, animals, and people recreating became the subjects of my watercolor studies. I found myself increasingly inspired by visitors and the warm conversations I shared with many of them.
People from near and far made the park a destination for every occasion imaginable. Some came for casual walks on the beach and others for momentous celebrations hosted at one of the many historic picnic shelters. Some came with families. Some came with pets. And some came alone seeking a peaceful place to spend time. By the end of my residency, I felt a deep appreciation for the many individual ways experiencing nature brings joy into the lives of many. Everyday, people from all walks of life created memories in the park.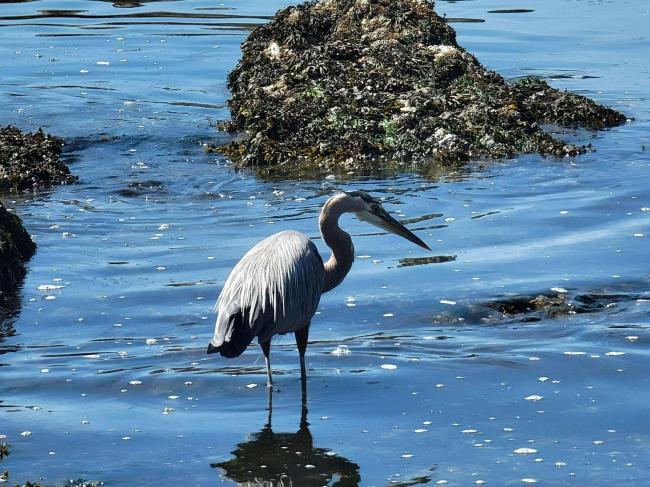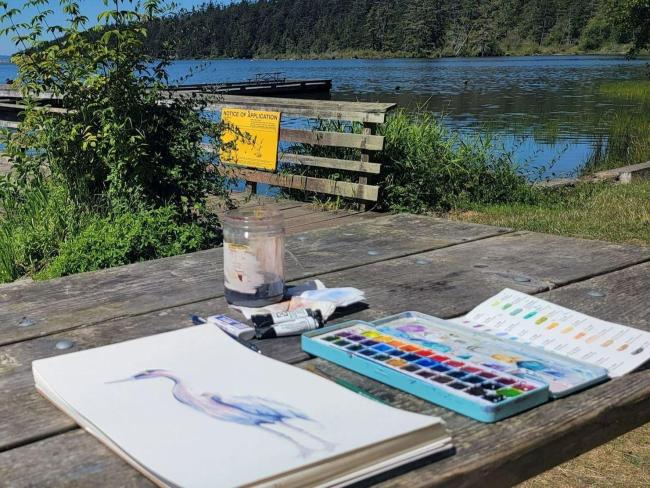 Memories just like the ones that shaped my childhood and continue to nurture my lifelong love of nature, the outdoors, and exploration of how places move us.
Deception Pass continues to inspire me. Through art, I reflect on these lessons by hand stitching together the paintings I created at the park. Needle and thread connect physically and symbolically the many watercolor plants, animals, and people who kindly allowed me to photograph them enjoying the outdoors. I hope for this to represent the harmonious interconnectedness of nature and people I observed at the park. An interconnectedness that I will continue to look for and appreciate wherever I go.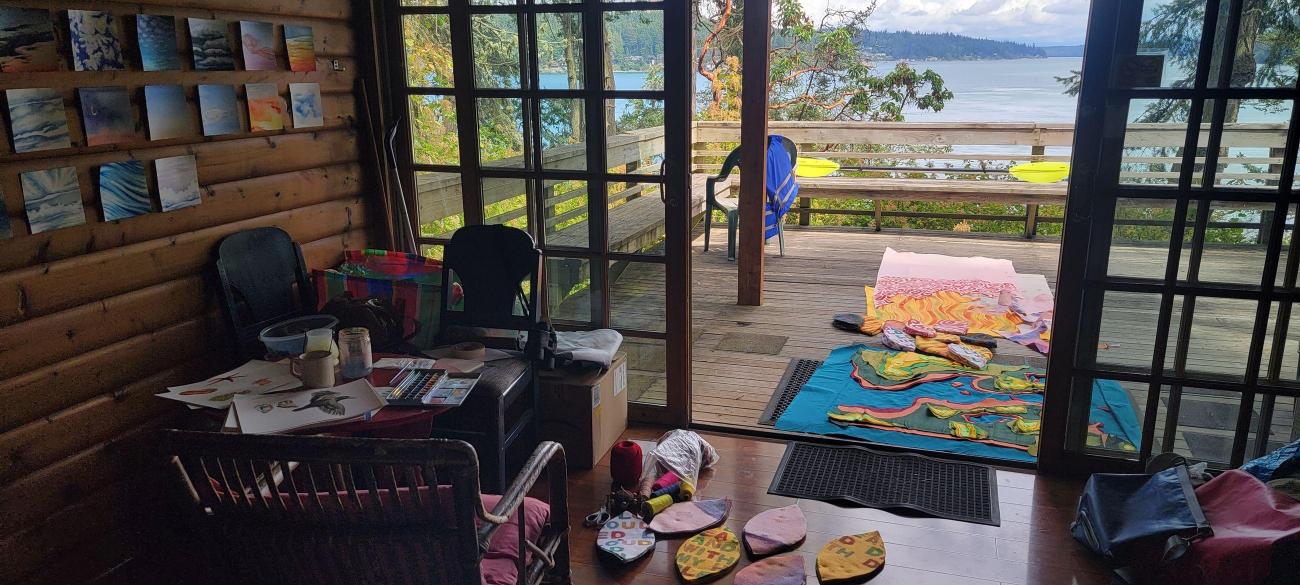 Thank you to the Deception Pass Park Foundation for making the Artist in Residence program possible.
Nina in the news:
Originally published July 02, 2022
See blogs also related to...