EarthCorps' international crew restores trail at Larrabee
In my view as an environmentalist from Ghana, Larrabee State Park is a sanctuary of greenery and coastal beauty that has captured the hearts of locals and visitors since the early 20th century. This popular park has a trail network that winds through lush woods and rocky shores. Its popularity, however, has taken a toll on the trails leading to Clayton Beach. Erosion and overuse have left the area's once-pristine pathways in disrepair, threatening the park's sensitive and culturally significant habitats.
However, thanks to EarthCorps' international crew, of which I am a member, the Clayton Beach trail is in the midst of a facelift that will restore its natural scenery and make it more accessible to visitors.
Who we are, where we're from
Washington State Parks collaborated with EarthCorps, a local restoration nonprofit associated with AmeriCorps, and other partners to build a new trail, a pedestrian overpass bridge and two boardwalks from the Lost Lake Parking Lot to Clayton Beach. The project included decommissioning old social trails and installing new native plants to help fight erosion. EarthCorps' work on this project started in 2021 with sourcing and caring for native plants for the project.
EarthCorps, which has several crews running all year as part of AmeriCorps, brought back its international program in 2022 for the first time after the pandemic. The international crew comprises six members - Ayomide (Mide) from Nigeria, Vanessa from Cameroon, Ia from Georgia, Gabija from Lithuania, Shahina from Tajikistan and myself from Ghana. We all speak English and have conservation education and post-graduate experience in our home countries. Together, we have worked in climates as diverse as the Caucus and Pamir mountains, Northern European forestlands and West Coasts of Africa.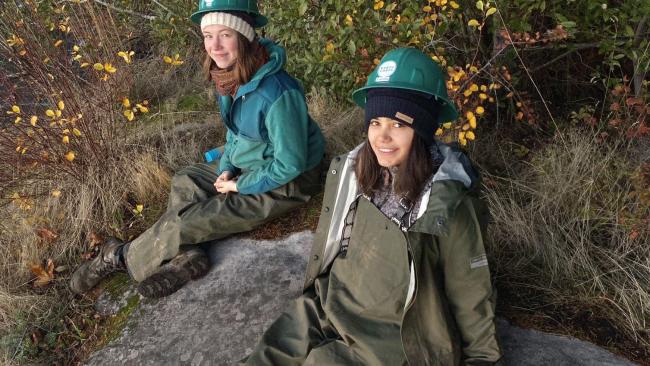 What we do
Since arriving in summer of 2022, we have worked on various projects, including invasive species control, trail building, maintenance, and native tree planting around Puget Sound. We also participate in leadership training, which will benefit our home countries and careers once we go home.
Washington State Parks contacted EarthCorps' Field Director about a possible partnership to explore ways EarthCorps could help the Clayton Beach project. Following discussions and careful considerations, EarthCorps determined that trail restoration would be the most practical area to focus on, and EarthCorps and Parks agreed to work together.
Our crew took the Larrabee project on short notice and brought our unique perspectives to the project. In just four days, we worked tirelessly in harsh weather to install more than 1,300 trees and shrubs on the eroded social trails from Lost Lake to Clayton Beach. Installing the new plantings before the cold winter was critical to their survival.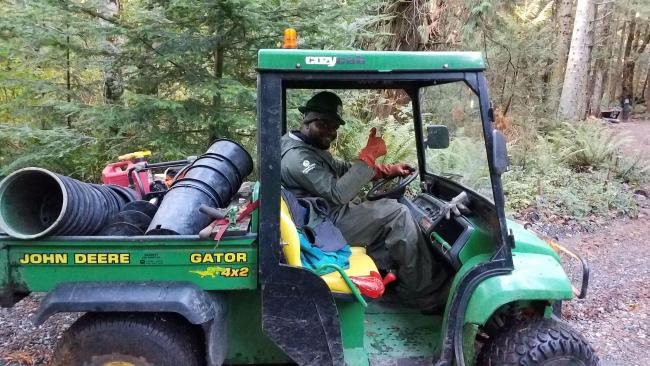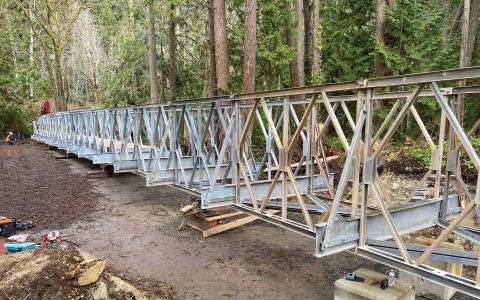 Despite our collective and individual experience, the work had its challenges.
My colleague Ayomide "Mide" Arowosegbe remembers Larrabee as a very special project.
He told me he had tried so many things he had never done before. Not to mention, he experienced an atypically cold Washington winter:
It was not easy, but we kept working, and we finished. The satisfaction of being part of a team that planted so many trees, shrubs and plants outweighed the weather challenges for us.
"I am from Nigeria, West Africa, and the lowest temperature I have experienced is around 15 -18 Celsius, but at Larrabee it was in the negatives and zeros." 

- Mide
We have been living in Seattle homestays for nine months, but we often camp when working outside the city. For this project, freezing temperatures meant we stayed in cabins at Bay View State Park (vs. tents).
Mide remembered a particular challenge - and I hadn't forgotten it:
"We had to pour hot water over our car doors every morning to melt the ice in the frozen locks."

- Mide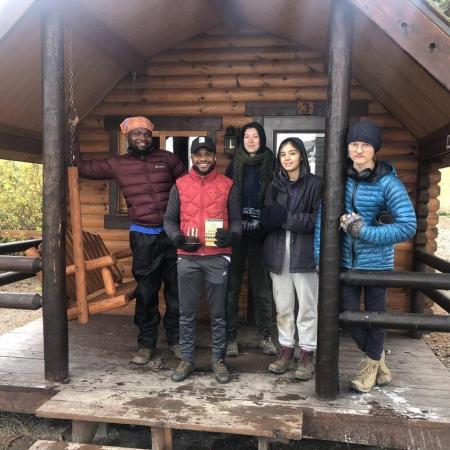 The Clayton Beach Pedestrian Overpass project should be completed by summer of 2023.
The new trail will be broader and drier than before and will allow visitors more consistent and easy access year-round. They'll be able to reach the beach safely and without damaging the ecosystem.
The project will also help restore Larrabee's beauty, protecting sensitive and culturally significant areas while providing increased access to environmental experience for international students and experts.
Brian Keenan, the project coordinator for Clayton Beach with Washington State Parks, expressed gratitude for the international crew, and it warmed our hearts:
"I am humbled that people from far-flung areas of the world came to work on our little project. This project is about more than just restoring the park. It is about welcoming people from all over the world and providing hands-on education and experience that has an outwardly radiating effect for good. 

– Brian Keenan, Washington State Parks

Mide plants a tree on the new Clayton Beach Trail.

The partnership between EarthCorps and Parks is invaluable! It exemplifies both EarthCorps' and Parks' missions around equitable access to public lands. The new trail expands access to Larrabee for Washingtonians and visitors alike. This is not just good news for nature and the visitors of Larrabee; it is good news for all on this planet. It's a reminder that we can come together across cultures and borders to create positive change and build a better future.

The crew's work is paused until the bridge is installed (and we can safely get to the other side for more planting), but we look forward to the project's completion and the positive impact it will have for generations to come.

And, as Brian with Parks said: "In a time when we all need good news, this project is a beacon of hope and a reminder of what we can accomplish when we work together."

The crew experienced this winter sunset from Bay View State Park, where they stayed during the Larrabee project.
Originally published March 23, 2023
See blogs also related to...